A Local Getaway like None Other – East Atlanta Meets Narnia.
My good friend, Kara O'Brien, of the famed Kara O'Brien Renovations has created what may be her masterpiece. A BEAUTIFUL tree house nested deep in a tall bamboo forest – a highly unusual piece of real estate in the Atlanta market. As always, she used mostly reclaimed materials – I like to tease her that she is bit of a hoarder. Her basements are full of old mantels, doors of every conceivable size, fireplace tile, entire porches, locks, stained glass, doorknobs – everything. When she is working on a project, she has plenty to choose from.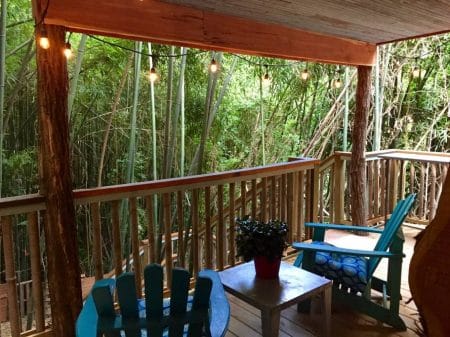 When she told us that she wanted to build a tree house in the bamboo forest that sits behind her house, as usual, I told her she was crazy. Then, when she said she wanted to build it for an Airbnb, I told her she was certifiable. But, true to form, she hit a home run. But let's back up.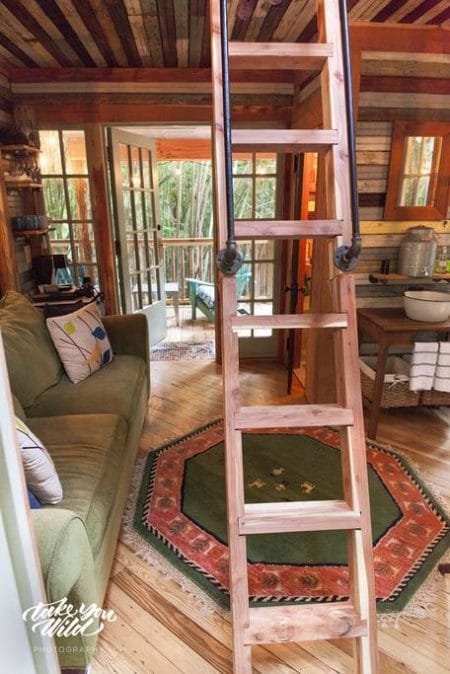 Kara bought her stone cottage five years ago. Then in 2013, she said she wanted a few chickens. As it turns out, chickens are really a gateway animal. A few chickens turned into a new lifestyle, really. She has Ayam cemanis, Pavlovskyas, French black copper Marans, olive eggers, two endangered ducks, dogs, and cats. Then she informed me that she wanted alpacas. What? The next thing I know there are four alpacas on a truck on their way to Georgia. Again, what?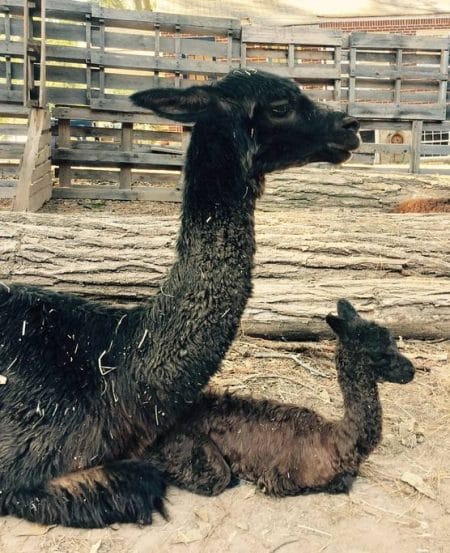 This is when she told me that her vision was to have this spectacular tree house where the alpacas roamed freely under it for the viewing pleasure of her guests. I'm sure you can imagine my response. But, yet again, her vision prevailed. The tree house, the roaming camelids, the beautiful chicken coops with stained glass windows and antique stair tread turned egg gathering doors, the entire thing is what is behind the door to Narnia. And to think that it is not just inside the city, it's smack in the middle of East Atlanta.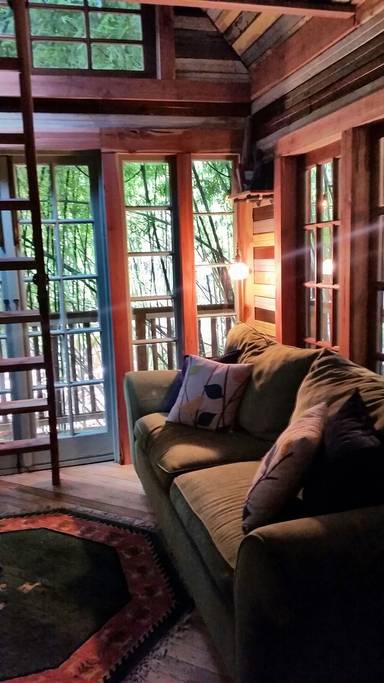 She handpicked the six trees to be used as the posts. The walls are made with 1900's beaded board. The front door came from a 1900's era Mayor's house. Another french door turned sideways now serves as a window. The flooring is from an old church. The ceiling of the porch is reclaimed beaded board. There is even a sleeping loft with a skylight.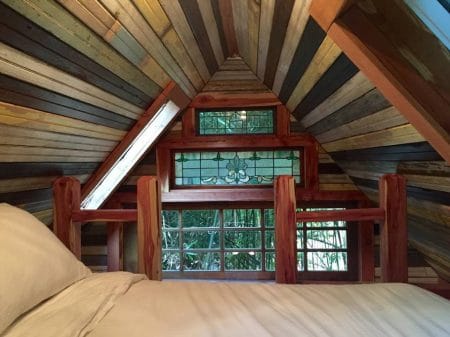 While there is a small bathroom inside the tree house with a composting toilet, the real bathroom is a lovely walk along a farm path filled with all creatures great and small – the private main bath is a beautiful marble room tucked inside the basement of the stone cottage.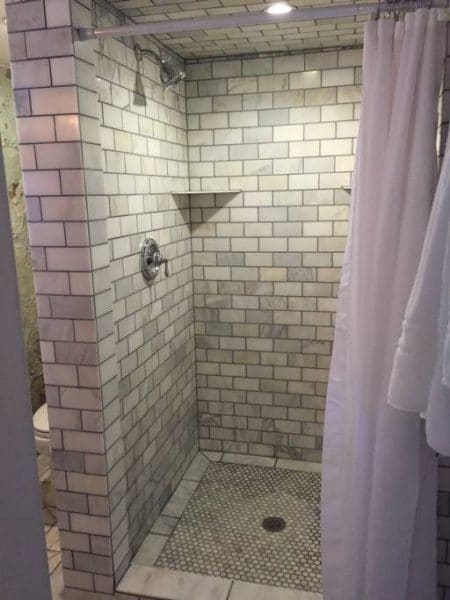 When you arrive, you get the tour. That alone is worth the trip. You get to see all of the animals, hear their stories, and possibly get a kiss from an alpaca. All in all, a stay here is both relaxing and invigorating. You unplug and let the animals and nature re-charge you. I have traveled all over the world and I can safely say that this is the most unique destination I have ever seen.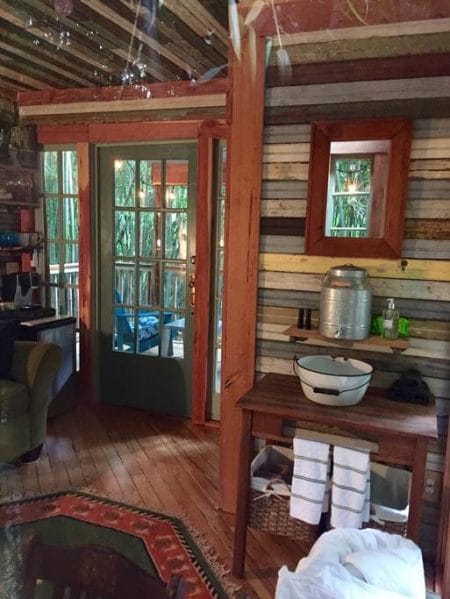 I encourage everyone to put this one on their list.
For more information about the treehouse, click here: Atlanta Alpaca Treehouse in the Bamboo Forrest.
Or to reserve your adventure, click here: Atlanta Alpaca Treehouse Reservations
Photo Credit : Lindsay Appel